Running a successful WordPress website involves more than just what happens in the front-end. There is a lot of regular work required in order to keep the site ticking over, running at peak performance and most importantly, remaining secure from hackers and malicious scripts.
Let's review three of the best WordPress support services on the web:
WPTangerine
WPTangerine is a WordPress support service. They help people rock WordPress. The company does this by helping WordPress website owners perform WordPress related tasks including maintenance, development, fixes, updates, changes, designs, and so on.
They offer unlimited tasks submission plans with which users can pay a monthly fee and then submit unlimited amounts of WordPress tasks to be performed.
The service is made up of a team of WordPress aficionados who work as support and maintenance experts for everything WordPress related. They've been described as the appropriate replacement and alternative to WP Curve (which was acquired by GoDaddy).
WP Tangerine seems to have served a heap of happy customers as they have plenty of testimonials from many verifiable happy customers on their website. They particularly list the full name and companies (with links) of every person who testify of their great work.
Website downtime can be costly to any business. Not just financially, but it can be damaging to your brand and reputation if customers are experiencing problems accessing your site. WP Tangerine takes this burden off of your shoulders so you can rest easy knowing your website is in safe hands.
WP Tangerine clients range from food providers, startups, environmentalists, real estate services, medical clinics, legal firms, tech companies, e-commerce, roofing and carpet companies, jewelry manufacturers, landscaping, media companies, and tour companies.
WP Tangerine unique. They offer WordPress development, design, advice, maintenance, optimization, and updates, security, SEO, and everything WordPress.
WP Tangerine lets you submit unlimited tasks 24/7, with a one business day turnaround and priority emergency care. This is great because you can reach out to them at anytime even for emergency site care and they'll respond quickly.
Their pricing are flexible too as they have three monthly plans starting from $147. They offer free website review as well, even to none customers.
These monthly plans mean there are no long term contracts so you don't get stuck. You can cancel at anytime or even take advantage of the 30-day money back guarantee they offer.
In conclusion, WP Tangerine is trustworthy and you can hire them with assurance that they'll deliver a clean job.
ClickWP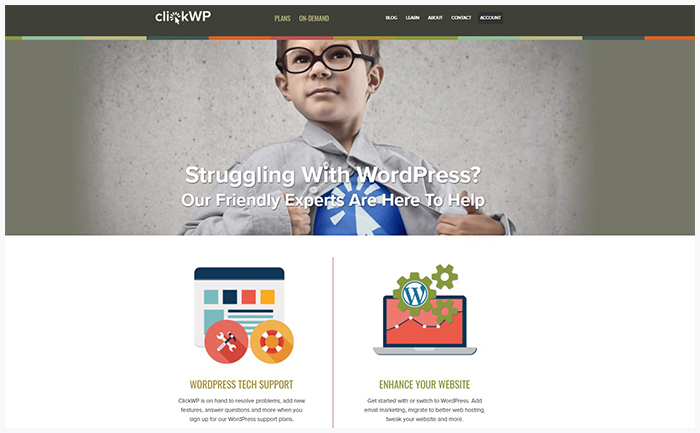 ClickWP is a service that is an absolute delight for the bloggers and businesses as it makes it easy for them to design their website and take care of it. The service includes basic technical support for the website to keep it up and running 24/7 all around the year.
The service includes daily backups, plugin and other core updates, security and constant monitoring of your website, email support services, and access to many themes out of which you can select the best theme for your Word Press website.
ClickWP provides professional WordPress support and maintenance for busy bloggers and small business.
You can ask for support to brilliant WordPress developers if you are struggling with website maintenance. Besides them, other impressive features of ClickWP are website setup, conversation & list booster, theme customization, website speed, hack repair, tweaks, and improvements.
Generally, it has three support plans starter, professional, and business. Choose an appropriate plan and maintain your website.
ClickWP was born out of the need for reliable and dependable support for individuals and businesses using WordPress. They can solve your WordPress problems, quickly and affordably. ClickWP specializes in solving WordPress-related problems of any kind.
Services offered by ClickWP include  nightly backups, WordPress & plugin updates, Website monitoring & security, Unlimited email support, Theme Customization, Website Speed-Up, Malware or Hack Repair, Website hosting at an additional rate starting from $5/month
GoWP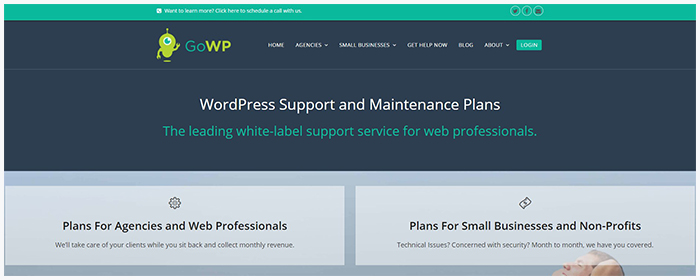 GoWP is another service which is primarily designed for small businesses and agencies. These services provide you with unlimited support for all the small tasks that your website may need.
Most of the services only focus on the major changes, whereas this service provides you with minor services as well. They will take care of your website security; monitor your website only during the business hours.
They will also provide you with necessary updates, daily backups, and plugins to make your website more responsive and easy to use. This is the best way to take care of your website in lowest possible budget.
GoWP started out as a web agency then became a dedicated support team that would maintain sites and helps site owners take them further. Scheduling backups, monitoring security, and resolving technical glitches may not be everyone's cup of tea but it sure is theirs
Tasks performed by GoWP are support Dashboard, WP Core & Plugin Updates, Daily Off-Site Backups, Front-End Security Scans, Server-Side Security Scans, Malware Cleanup Support, Unlimited Support Tasks (30 mins each), Batch WooCommerce Updates, Manual WooCommerce, Updates & Testing